Filing a Personal Injury Claim After a Construction Accident Case
If you were injured in a construction accident, the specific circumstances surrounding the cause of your accident may qualify you to receive monetary restitution outside of what you would otherwise receive in a workers' compensation claim.
Regrettably, those who work in the construction industry are routinely exposed to dangerous work conditions that often result in serious bodily injuries or even death. The Occupational Safety and Health Administration has reported that over 20% of all work-related casualties in the nation occur within the construction field. This goes without saying that there are thousands more workers that suffer injuries each year. If you or someone you care has experienced an injury while working in a construction site, it is important to seek legal support to obtain the financial compensation owed.
When to File a California Personal Injury Claim for a Construction Accident
Although California state law requires that every employer provide workers' compensation, an injured construction worker will soon find that benefits obtained from a workers' compensation claim are insufficient to cover medical expenses and other financial needs.
Usually, benefits received from a workers' compensation claim will only cover specific expenses. This can be routine medical treatments or a percentage of a loss of earnings. In fact, in certain situations, an employer will not carry workers' compensation insurance.
In spite of this, construction workers often have the opportunity to file personal injury claims in the aftermath of a workplace accident. Filing a personal injury claim can provide the injured worker the opportunity to recover damages outside the scope of workers' compensation.
The following situations will typically allow for the pursuit of a personal injury claim:
A third party has caused the employee's injuries – When a work environment or work employer has caused the injuries of a worker, the employee will typically have to rely on workers' compensation in order to receive benefits. When the injury, however, was caused by the negligence of an outside party, the worker can seek restitution from that party. For example, if an employee was working on a road when a drunk driver struck him or her, the injured worker can file a claim against the drunk driver.
A defective product has caused the worker's injuries – In construction, workers typically handle many different types of heavy machinery and equipment. If one of these devices malfunctions and causes the victim's harm, a products liability claim can be filed.
The employer intentionally caused the accident – When the employer caused the workplace accident purposely, the worker may have the legal right to pursue legal action against the employer.
Hire a Qualified Construction Accident Personal Injury Attorney in California
The construction industry is one of the most dangerous fields to be employed in. When a worker suffers an injury, workers' compensation benefits will not always be available. When they are, the benefits may not be enough to cover the expenses resulting from the injury. If you were injured while at work, seek the legal guidance and support of a qualified personal injury attorney who can help you understand your legal options. As an injured worker, you may be entitled to receive monetary compensation by filing a personal injury lawsuit.
Attorney Scot Thomas Moga has over 25 Years of dedicated experience helping construction workers receive the monetary compensation they deserve. If you were injured as a result of the negligence of another, contact experienced legal support today.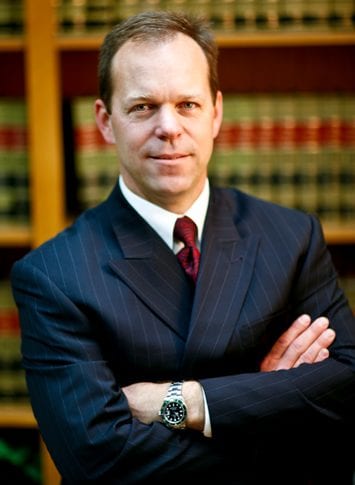 Scot Thomas Moga, a dedicated attorney in San Bernardino & Riverside Counties who represents clients in the many types of personal injury, workers' compensation and estate planning cases.